Some of the world's oldest cave art
Only a fraction of the country's estimated 100,000 rock art sites have been documented, and as one traveller discovered, protection is patchy.
Away from the sun's glare, my eyes needed a moment to adjust. I heard my daughter and husband making their way up the rocky trail behind me through the oppressive heat. "This better be worth it," my daughter Maia called out.
I peered through the dim light of a shallow cave and spotted an array of centuries-old paintings. There was a red ray with white dots overlapping a crocodile. Nearby, I puzzled over sea creatures with feathery fronds. Then I saw the sailing ships: painted one on top of the other in shades of yellow, red and orange, they evoked old European galleons and Indonesian sailboats. Oh, it was worth it, alright.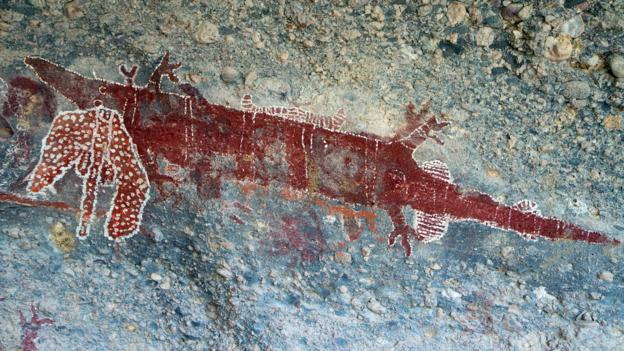 And yet, I was perplexed. We'd come to Stanley Island, off Australia's Cape York Peninsula, to learn about the Aboriginal Australians who once resided here. But we found the main sign marking Flinders Group National Park concealed by mangroves and the guestbook had recorded only a handful of visitors each month. This place attracted thousands of visitors in the early 1980s. Where were they now? Why wasn't anyone here to keep an eye on the artwork? And how had this 75-year-old park, with its historic rock art, faded into obscurity?
I suspected part of the answer had to do with the remote location. We were in a small, uninhabited island group 340km north of Cairns. Getting to Stanley Island – or Yindayin, as it's called by the local Aboriginals – isn't easy. While some visitors arrive here on small coastal cruise ships out of Cairns or on coastal ferries, we travelled up the coast on our own boat and anchored in Owen Channel near the spot where we thought the rock art might be. Rather than hire a tour guide through theCooktown and Cape York Peninsula Information Centre180km south, we explored the island on our own.
After landing our dinghy, we headed up a designated trail through a fragrant orchard, past metre-high termite mounds and rugged cliffs. When we finally reached a beach on the other side of the island, I searched for the trail leading to the rock art.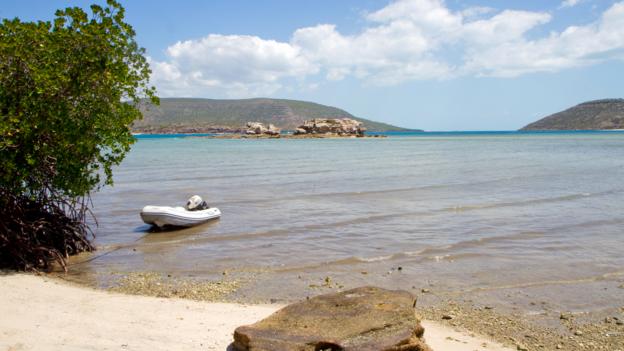 "There might be salties!" my husband Evan called to Maia each time she strayed close to the water's edge. He was referring to saltwater crocodiles, of course – the kind that eat humans. Fortunately, we didn't see any.
Once I found the trail, we trudged into the bush to find the artwork. The wind dropped and the humidity increased, and I began to wonder if the park had been forgotten for a reason. Then I stepped under the overhanging rock ledge and entered the shallow cave.
I couldn't believe what I saw. There had to be hundreds of  paintings on the rock face: images of ships, canoes, birds and turtles. Each time I turned my head, looking up to the ceiling or deeper into the shelter, I spotted something new. The cave, which was almost big enough to hold one of the ships painted on its walls, was like a window into the past. Gazing at the white and ochre paintings, I was filled with wonder.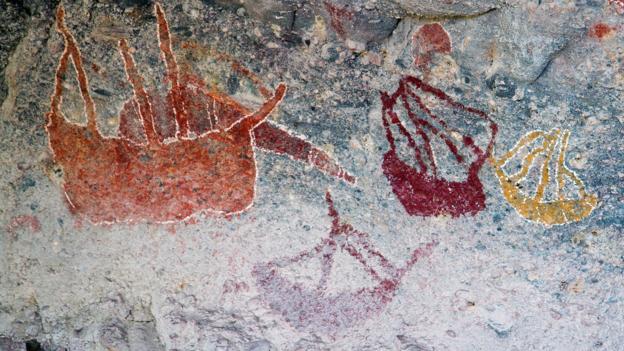 The Aboriginal Yiithuwarra, or "saltwater people", lived throughout the Flinders Islands for more than 2,900 years, until about 70 years ago. We don't know how many people there were, exactly, but at one time dozens of multi-family settlements dotted the small islands. I thought about the Yiithuwarra who painted these ships. Each image was so detailed. Had the artists seen the ships from up close? Or just from afar? The only solidly identifiable image of a European ship was from 1899, but most of the images probably pre-date that.
We know that some ships landed on the island and carried people away. Even before the first European ship sailed past in 1606, a number of fit young men were coerced aboard Indonesian sailboats to fish for sea cucumbers in the rough local waters. In the 1880s, still more young men were recruited to work on small luggers, or fishing boats, in the highly lethal pearling and fishing industries. Records indicate that some local women were even traded for goods with those aboard passing boats.
And then it all came to an end. Details are sketchy, but by the late 1930s, Yindayin was nearly empty of its traditional people. Authorities soon removed remaining Yiithuwarra, taking them to missions on the Cape York Peninsula for fear they might lead an invading Japanese force to food and water.
As Evan and I studied the ships, Maia searched the walls and overhangs for the last image that was reportedly painted here: a dugong, the endangered sea cow that was once central to this Aboriginal culture. It was painted roughly 60 years ago by the last Aboriginal man born on the island. Then she spotted it: a bulbous, deep red creature with bright white stripes. She seemed to meditate on it for a moment.
"They're almost all gone now, too. Aren't they?" she asked.
My initial excitement over seeing the art faded to sadness. We still took turns pointing out images that captured our imagination: a bird's single footprint, a kangaroo (on an island that has none), a boomerang (I guess they really did use them). But the thrill of discovery was overshadowed by the reality of the situation. Not only were the artists missing, but the seascape they recorded was also disappearing.
After an hour or so of studying the rock art, we wandered deeper into the island, noting former indigenous cooking sites, sleeping locales and other sacred places filled with yet more art. Despite the boardwalk that had been constructed under our feet, it was hard to shake the feeling that the inhabitants had just stepped out for a while. If only.
I thought about all of the extraordinary paintings out here, unprotected. They're hardly alone, unfortunately. Only a fraction of Australia's estimated 100,000 Aboriginal rock art sites have been documented, and protection is patchy.
Noelene Cole, an archaeologist and rock-art specialist, points out that many sites in northern Australia are endangered because rock art concentrations tend to be found in regions with mineral deposits, making the areas targets for mine developments. Even Yindayin is at risk. An underground coalmine and port facility has been approved for Cape York's nearby Bathurst Bay, located on the mainland just a couple of kilometres from the islands. When the mine is built, the island could see more visitors, including miners out for recreation. They may not all appreciate the area's cultural heritage.
Cole points to the well-publicized and recurring graffiti and vandalism damage that's occurred to ancient artwork over the past several years after a gas processing plant, port and other industrial facilities were built on the Burrup Peninsula in Western Australia.
To date, officials have focused more on promoting economic development than  protecting cultural treasures, she said. But she hopes that will change.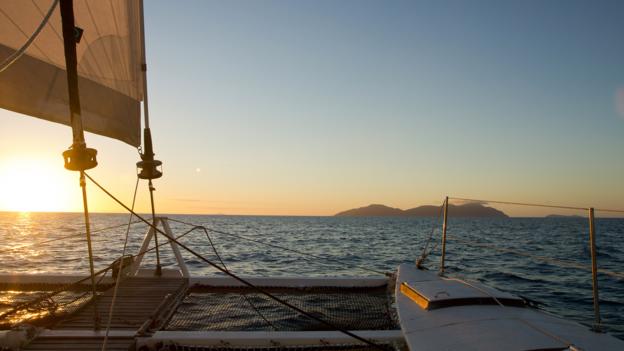 The risk to the irreplaceable rock art was on my mind when we sailed away from the islands the next morning. There is, I realized, cause for hope. In recent years the Cape York Peninsula Aboriginal Land and national park system began including the traditional Aboriginal owners in the care and control of national parks where they have resided.
Resources tend to be scarce, and in places like Yindayin, where the traditional people haven't lived for decades, it's difficult for them to find a role for themselves.
But perhaps in time, decedents of the Yiithuwarra will again greet ships that arrive on their island – and care for the ships that their ancestors painted so many years ago.